Welcome to the programme for Aquilae Duo's Live Streamed concert, from Gaulby Church, on Saturday 19th December at 6pm GMT.
Please click HERE to view or download the PDF programme for this concert.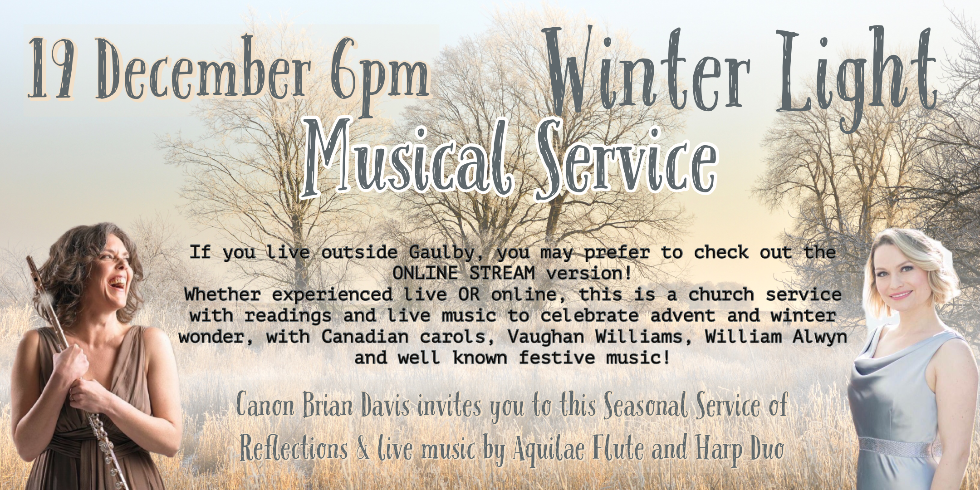 We welcome you (virtually!) to Gaulby Church, Leicester, for a service of readings by Hilary Painter and music by Eleanor Turner and Lisa Nelsen. Thank you to Canon Brian Davis for inviting us.
We hope you will be able to access the PDF of the programme 'Winter Light', but it is included here as well, in a very simple form, just incase you have any issues with the PDF:
The Holly and the Ivy
Welcome by Hilary Painter
JS Bach Sonata in G minor, 2nd and 3rd movement
Bible Reading from Isaiah
R V Williams Fantasia on a theme of Greensleeves/What child is this?
Peace and Calm reading
William Alwyn "Naiades"
Bible reading from Thessalonians
O Holy Night
Christmas in Prison by Dietrich Bonhoeffer, who was involved in a plot to assassinate Hitler, and was executed a fortnight before the end of World War 2.
Pierre Massie 'A Baby is Born' – a contemporary Canadian carol
Prayers at the end of the service
Have yourself a Merry Little Christmas
The Lord's Prayer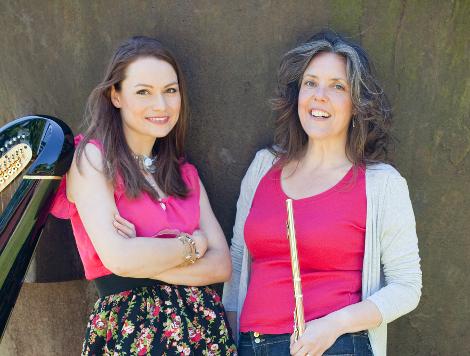 Upcoming Aquilae Concerts:
December 19th 2020 at Gaulby Church and Online - see Concerts page.
Aquilae are excited to have a few concerts in the diary in February and October next year - most on those soon!
Aquilae Flute and Harp Duo specialise in concerto and recital performances, alongside interactive projects and workshops. For the Newbury Spring Festival, Lisa and Eleanor toured community venues performing for children, elderly folk and adults with a range of disabilities.
Lisa Nelsen was born and raised on a pig farm in Western Canada and enjoys an international career as a soloist, chamber musician and educator. Her recitals have taken her to concert halls in Norway, Finland, Cyprus, Greece, Italy, Holland, Ireland, Kuwait and the United Arab Emirates, as well as throughout Canada and the United States.
Lisa is the Chair of the British Flute Society and an in demand soloist and chamber musician worldwide.
In February 2006 Lisa toured across the Canadian Prairies as a Powell/Sonare Flutes' Artist. She has performed for the Canadian High Commission in London in the presence of Her Majesty Queen Elizabeth and Prince Philip. Lisa was the Specialist Flute Teacher for Wells Cathedral School from 2001-2017 and is professor of flute at the Junior Department of the Guildhall School of Music and Oakham School. She coaches the wind players at the National Youth Chamber Orchestra and the Main Orchestra of the National Children's Orchestra.