"magical fingers" The Metro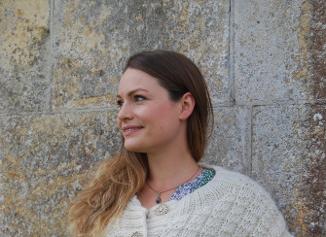 Eleanor Turner is a passionate ambassador for the harp and its music. She is an international prize-winning artist who has performed everywhere from Shanghai to New Orleans and is a leading expert in contemporary music. Eleanor has released classical discs on Champs Hill Records, Decca, Naxos and her own label, Arts in Fusion. She curates pioneering shows such as her 'Wild Bird' for harp with string quartet, flute, clarinet and percussion, and workshops such as 'Philo Sophia', a discussion-based event sharing feminine wisdom. Her latest project is a live music centred evening event called 'Sanctuary', which she has curated and performed at since February 2022.
Eleanor has been busy honing her production skills, recording in her home studio and composing music on her own and with Wayne Bennett, guitarist and bassist. In 2020, she teamed up with harpist Elizabeth Bass and artist Inaky Turner to create and produce a pack of 35 practice cards called 'Enso Cards', inspired by Japanese language and culture, referencing knowledge gained through years of personal study and performances.
The story so far...
Eleanor started learning the harp at the age of 5, thanks to her Scottish mum Valerie loving music and being a fan of Harpo Marx. She studied with Daphne Boden at the Royal College of Music Junior Department every Saturday for 7 years and made her London concerto debut at the age of fifteen, with the Academy of St Martin in the Fields conducted by Daniel Harding and broadcast live on Classic Fm.
After such an amazing introduction to the world of classical music, Eleanor turned her attention to a more academic interest, as an 'academic and cultural achievement' scholar at Middlesex University. Whilst on this path, she was privileged to take harp lessons with Alison Nicholls, famous for her work with Mobius Ensemble and commissioning new music. These wonderful lessons continued for seven years, culminating in Eleanor winning the European Harp Competition in 2007. Eleanor returned to the academic side of her musical journey three years ago, at Birmingham City University, where she both teaches and is an active researcher in the field of gesture control and sound specialization.
Eleanor has performed around the world from the Berlin to Vancouver. She won Second Prize in the 2011 Gaudeamus Interpreters Competition for contemporary music and in 2007 received her first professional commission as a composer, from Ballet Wales. Eleanor enjoys creating original shows such as 'Elusive Symmetry' in 2011, with hip-hop dancer Lizzie Gough and guitarist-composer Alan Thomas and her 'Wild Bird' show in 2015. Eleanor creates Indian-western fusion music with tabla player Mendi Singh in their duo, Tala Tarang.
Eleanor's artistic development has been supported by awards from the Tillett Trust, the Ambache Charitable Trust, PRS Foundation for New Music, Ralph Vaughan Williams Trust, Help Musicians UK, the Park Lane Group, Sound and Music and a Wingate Scholarship. A key influence in Eleanor's life is the American jazz harpist, composer and conductor Deborah Henson-Conant. Since their first collaboration in 2010, generously supported by Camac Harps, Eleanor and Deborah have worked together in New Orleans (where Eleanor performed Deborah's concerto Soñando en Español with the Louisiana Philharmonic Orchestra), Sydney and Hong Kong.
Collaborations and cross genre projects have always been important to Eleanor, who started her own record label and production company 'Arts in Fusion' when she was in her early twenties. On this label she has released 6 discs and furthermore she has recorded for Champs Hill Records and Naxos, Signum Classics, Guitar Classics, Nonesuch Records, Toccata Classics and Decca Classical. Recent collaborations include many concerts with the Harborough Collective and the Orchestra of the Swan, both under the musical direction of violinist David Le Page. Eleanor's 'Aquilae Duo' with Lisa has stood the test of time and as they celebrate their ten year anniversary as a duo, they are thrilled to be tutoring their first chamber music course together at MusicFest Aberystwyth 2019.
To download Eleanor's official biography as a Word file or PDF, please visit the Press Pack page. Email Eleanor for updates or editing.