The Crown of Ariadne Workshop 10 June
Four examples, Question and Answer
In this short class, we will focus on aspects of musical line and gesture, rhythm and texture, ambience and influence and specific colours created through harp techniques and percussive noises.
My journey with The Crown of Ariadne
My journey with this piecestarted in 2010, when I saw and heard Erika Waardenburg perform the work and was completely captivated. I began learning the piece and in 2011 I competed in (and was the Second Prize winner) the Gaudeamus Interpreters Contest Interpreters Contest in Amsterdam (hence these photos by Co Broerse of me rehearsing for the Final at the Muziekgebouw). I had studied the music with Erika, as well as guitarist Alan Thomas who is a specialist in contemporary music and a composer (now a colleague of mine). Alan had actually won the competition in the 90s and he really helped me to find the musical lines and motifs and make them sing. I also had coaching with Ernestine Stoop who made a huge impression on me with regards to tone and rhythmic intent and accuracy. I can't thank these people enough. The pinnacle was in 2011 when I had the rare opportunity to work with Judy Loman and Murray Schafer together on the piece, in a masterclass hosted by the 11th World Harp Congress in Vancouver, Canada. This life changing experience was a complete one off, as Schafer is not on email and prefers not to be contacted by phone. He did the class for Judy and I am indebted to them both. This occasion made a huge impression on me and five months later, I made the first ever complete studio recording of the work, including the 1995 addition of the dream sequence harp solo, Ariadne's Dream.
© Copyright Eleanor Turner
Please watch the following video before the class, to get a feeling for the main points we will be discussing and workshopping. Then see below a list of possible household items you could gather up if you would like to have a go at the four examples I have selected.
If you would like to be a fully active participant in the Zoom class, you will need:
1. Any kind of harp
2. 2 x wooden spoons (or spatulas or pieces of wood)
3. 2 x saucepan lids that, when struck, produce different pitches. If possible, attach a necklace/chain or earrings to the larger of your two 'cymbals' and see if you can suspend them from something to the left of the harp (large/lower cymbal) and the right of your harp (small/higher cymbal)
4. Kitchen roll inner tube (or toilet roll tube or rolled up newspaper or card)
5. Metal tuning key for sliding (or screwdriver or any smooth, long piece of metal with a bit of weight to it if possible)
6. 3 wooden bowls or any hard objects that you can strike which make different pitches
AND/OR
7. 3 mugs or strong glass jars that you can create different pitches with
8. Imagination
9. If possible, a moment of calm and silence before the class
10. If you are feeling very creative, make yourself ankle bells using ribbons or hairbands with anything from bells to keys to jewellery to safety pins attached - one of the feet will be the accented foot, so you'll want to put twice as many 'bells' round one ankle.
If you can spare the time, also watch and LISTEN to the video below, where the composer explains sound ecology and deep listening.
As you can see, below, Murray is also a fun loving man and the spirit of The Crown of Ariadne is not overly serious. It is a complex work and he expects people to listen, but he also wants people to dance, laugh (who can NOT laugh at a harpist gently howling through a kitchen roll tube?) and embark on an exotic adventure with him.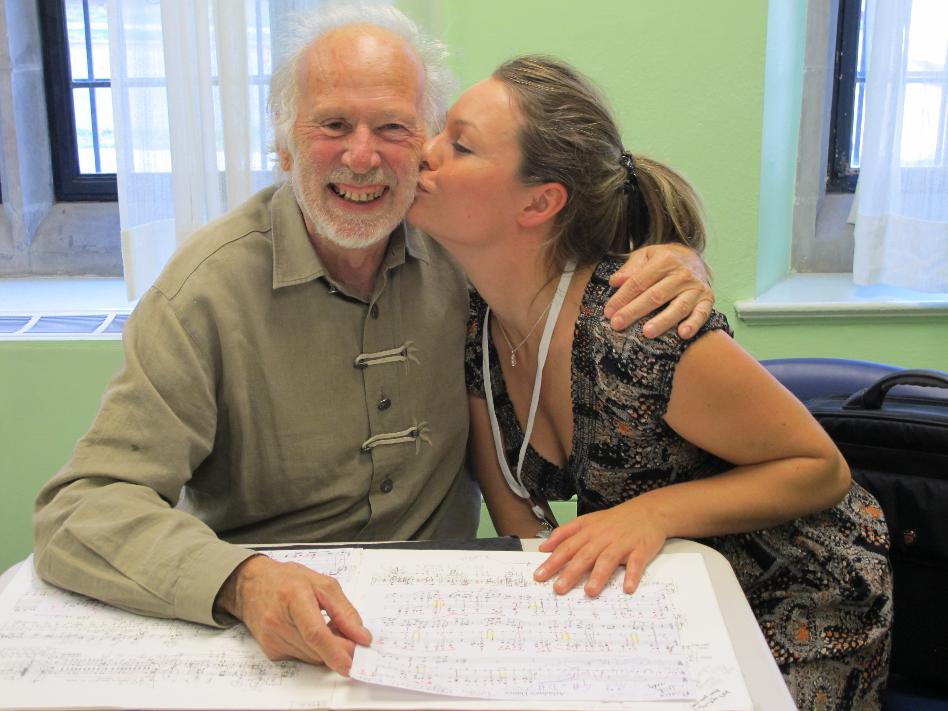 Below are the fragments of The Crown of Ariadne that we are going to look at in some detail.
1. Ariadne Awakens; the closing phrase (no percussion)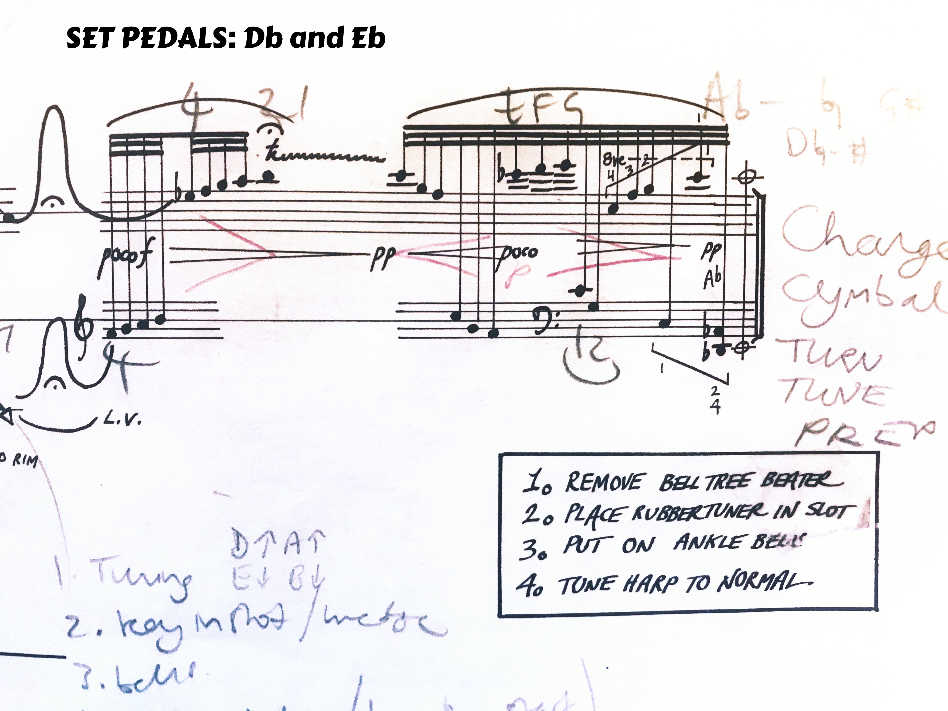 2. From Dance of the Night Insects - you will need a metal tool, either a second metal tool or plastic or wooden stick for the left hand to hit one of your mugs or jars that will represent a triangle, unless you have an ACTUAL low sounding large triangle! as well as something to suspend it on (empty large picture frame, banana hanger, clothes hanger for example)
3. The next two images are from Sun Dance, which starts off with reflections of sunlight on the Mediterranean (Debussy - Salzedo - Schafer via Takemitsu and Loman!) and goes inland to a forge where we hear references to the Minotaur from the 3rd movement 'Dance of the Bull' in the first snippet, and then (as described in my video) the blacksmith's Forge, where an anvil is being hit and perhaps horse shoes are being moulded, or metal shoes for the minotaur, even?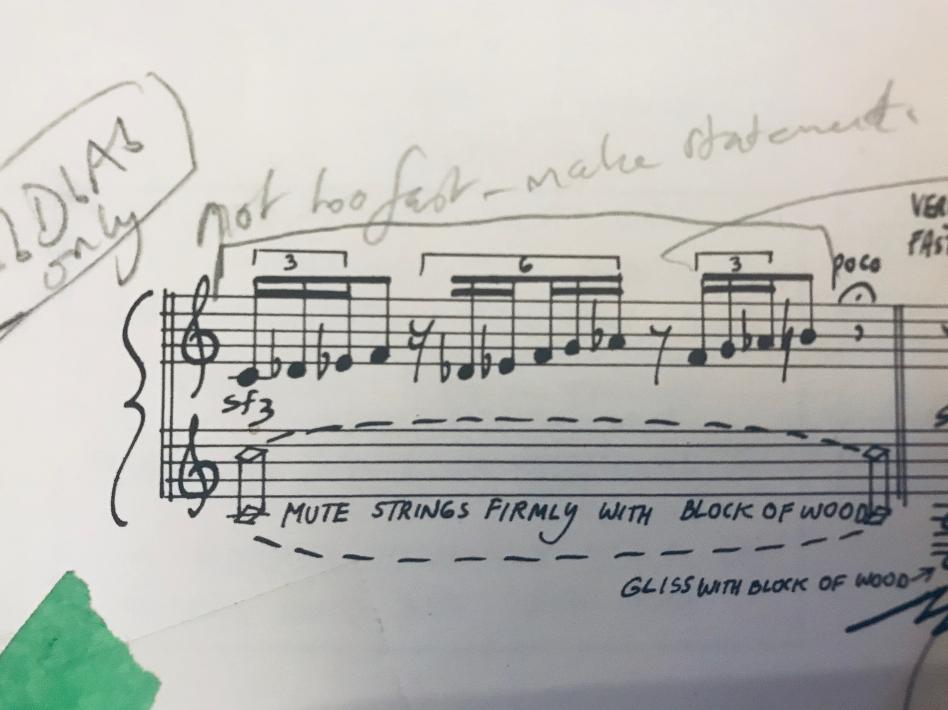 From Schafer's 'Our sonic environment and the tuning of the World' aka 'THE SOUNDSCAPE', he references a time in Germany when an old Swabian blacksmith and his assistant fired up their abandoned forge and demonstrated the techniques. Schafer says it is impossible to realise how diversified the sounds of the blacksmith were, without a visit to an actual forge. Luckily for me, I was brought up around horses and every few weeks the farrier would come to the yard and I would hear the amazing music of the anvil and all the shaping tools; tongs, hammer and the sound of the fizzing metal as it hit the cooling water in the slack tub. I never knew, as a small child, that I would be called upon to musically realise them within a harp piece! When I strike the anvil on my right, I can almost smell the keratin of the horse's hoof as the malleable hot metal is moulded perfectly to its shape. Vivid memories for me just as they were for Schafer! (Schafer even features a piece of musical notation in the book, showing the exact rhythms made by the smithy and the assistant.)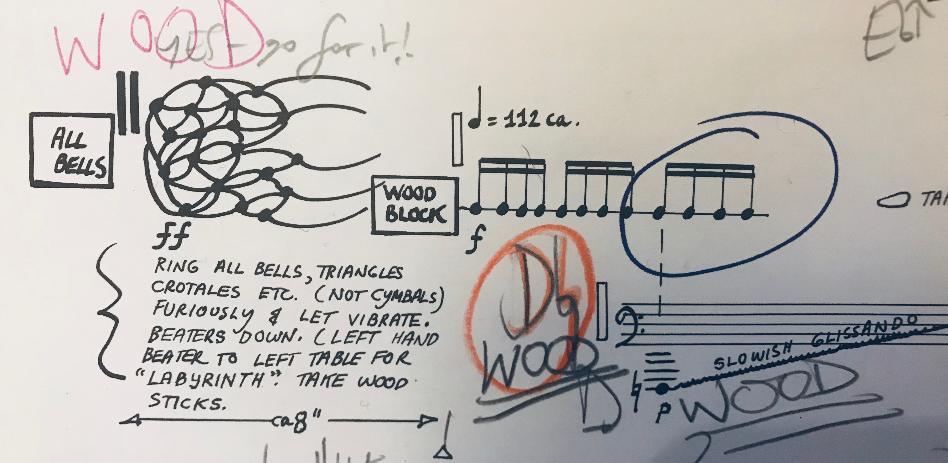 Finally, in the video I set a challenge for you to learn the foot pattern for Ariadne's Dance. When I met Schafer, he told me that this isn't a dance happening in the 'now', but Ariadne remembering the dance that she learnt as a way of finding her way through the labyrinth's twists and turns, which she later needs as she has to retrace her steps in order to rescue Theseus. Here is the start of this dance, showing the rhythm you need to learn.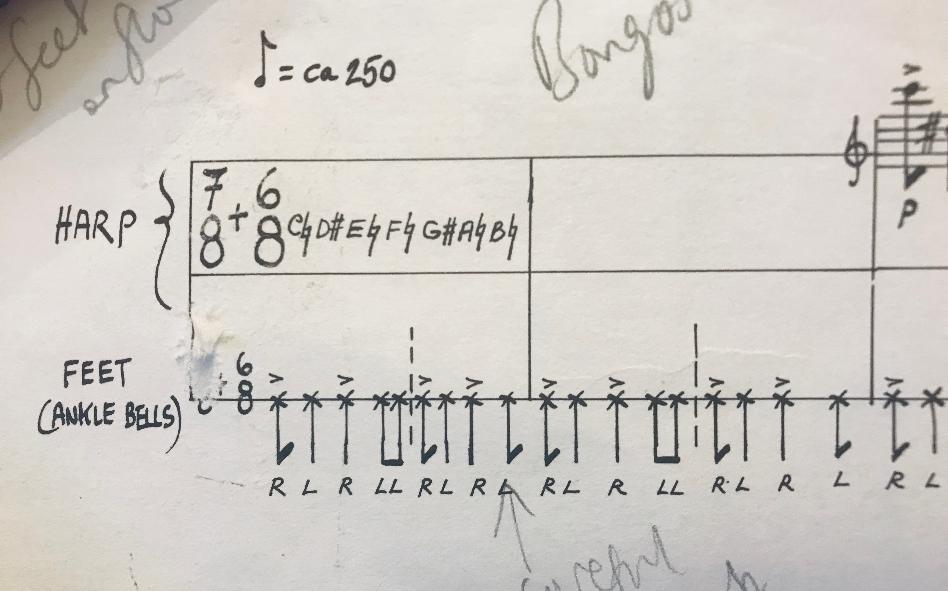 Here is a little more detail from the sleeve of my album, The Crown of Ariadne.