"

Ensemble is watertight and there is a real rhythmic élan to the playing

which keeps you listening.

"

BBC Music Magazine

- 4 Girls 4 Harps at Christmas CD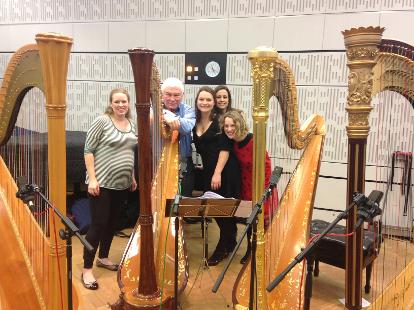 Eleanor is a founding member of 4 Girls 4 Harps. Together with Harriet Adie, Keziah Thomas and Elizabeth Scorah, the group are fast approaching a wonderful 15 years working together.
Here they are, pictured (left) with Sean Rafferty, performing live on BBC Radio 3 In Tune, shortly before Christmas 2013.
The girls talked about the rise of the harp quartet, their friendship and working together, and they performed two tracks from their album 4 Girls 4 Harps at Christmas.
The videos below show two different sides to their repertoire - well-known classical music arranged by 4 Girls 4 Harps, and original repertoire written for 4 harps.