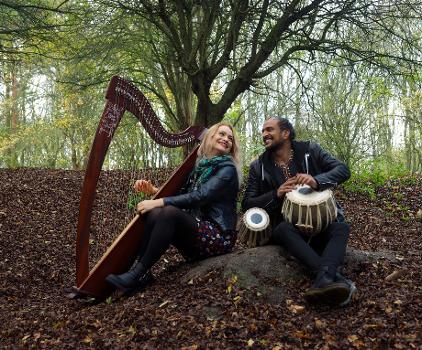 Eleanor is a member of 4 Girls 4 Harps, a harp quartet who have celebrated their 15 year anniversary by founding the British Harp Chamber Music Competition and commissioning a superb new work by four outstanding women composers: Nicola LeFanu, Savourna Stevenson, Alissa Firsova and Ayanna Witter-Johnson.
Four of Eleanor's tried and tested arrangements, for 4 harp ensemble, are available to purchase and download at Harp Column Music. Click here.
Welcome! Eleanor's next performances
12 November 3pm Sunday Coffee Concert with Harborough Collective: Harp, oboe and strings, 'Indian Summer', including Mahler's Adagietto from Symphony 5, with Victoria Brawn (oboe) and others, Market Harborough's Congregational Church, LE16 7JD http://www.harboroughconcerts.co.uk/concerts.html
16 November Thursday 12.45pm Eleanor Turner solo harp lunchtime recital at Loughborough's Emmanuel Church including Bach's Prelude and Fugue in D major, BWV 850, music by Liszt, Benjamin Rimmer and Dario Marianelli. Free admission but donations appreciated.
17 November Friday 7pm onwards, 'The Churchill' Hyatt Regency Hotel, 30 Portman Square, Marylebone, W1H 7BH. Mendi and Eleanor perform their unique musical creations in an evening to celebrate the work of the Little Big Souls charity on World Prematurity Day 2017. Reserve your place by emailing events@littlebigsouls.org or visit the website and book online: https://www.littlebigsouls.org/news Tickets are £30 per person which includes drinks and canapes. Friends of Eleanor and Mendi can use the following code when booking: CONCERT1 for a 30% discount! All proceeds go to the charity.
See Concerts page for details of all of Eleanor's upcoming performances!
For current information and news, please sign up to Eleanor's newsletter: Click here to sign up now via Eleanor's facebook page (you don't need to sign up to Facebook to do this)
Intensive Study: Eleanor invites students from around the world to join her at her home in Stamford for 1-3 days.
€œEleanor Turner is a very personal artist; she captures the warmness of the South American rhythm and timbres. She is a professional and intelligent performer as well as a mature artist. Bart van Oort