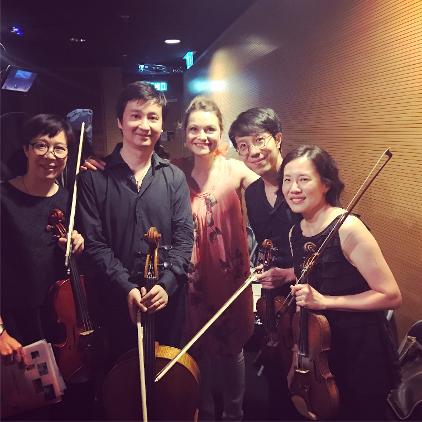 Photo: Cass Ho, Charles Chan Ngat Chau, Eleanor Turner, Gallant Ho and Leslie Ryang in Hong Kong at the 13th World Harp Congress, after performing Benjamin Rimmer's 'Rise' and Savourna Stevenson's String Quintet.
Social media and news: Eleanor is on Soundcloud as Eleanor Turner 3. If you like pictures, follow 'eleanorharpist' on Instagram! Eleanor also has a page on Facebook and you can follow her on Twitter as she harps around the World!
Eleanor is a member of 4 Girls 4 Harps, a harp quartet who have celebrated their 15 year anniversary by founding the British Harp Chamber Music Competition and commissioning a superb new work by four outstanding women composers: Nicola LeFanu, Savourna Stevenson, Alissa Firsova and Ayanna Witter-Johnson.
Four of Eleanor's tried and tested arrangements, for 4 harp ensemble, are available to purchase and download at Harp Column Music. Click here.
Welcome to eleanorturner.com
Eleanor's next performances
July 24th - 4 Girls 4 Harps at Kings Lynn Festival, St. Nicholas' Chapel.
July 30th - Chroma Trio (Eleanor Turner with David Le Page (vln) and Clare O'Connell ('cello) at St. Mary's Church, Cratfield, Suffolk (nr Halesworth), IP19 0PX 3pm Sunday concert of Renie, Ibert, Saint-Saens and Debussy. http://www.concertsatcratfield.org.uk/tickets/

1 August - 4 Girls 4 Harps at Church Stretton
2 August - Eleanor Turner solo lunchtime recital at Peterborough Cathedral, 1pm to 1.50pm
11 August - Eleanor Turner solo recital 7.30pm at Millfield School, Street, near Glastonbury. BA16 0YD. All welcome! Music by Bach, Guridi, Marianelli, Liszt, Barbara Heller, Malcolm Arnold (guest appearance by Keziah Thomas), Bartok, Prokofiev and Albeniz.

See Concerts page for details of all of Eleanor's upcoming performances!
For current information and news, please sign up to Eleanor's newsletter: Click here to sign up now via Eleanor's facebook page (you don't need to sign up to Facebook to do this)
Intensive Study: Eleanor invites students from around the world to join her at her home in Stamford for 1-3 days.
€œEleanor Turner is a very personal artist; she captures the warmness of the South American rhythm and timbres. She is a professional and intelligent performer as well as a mature artist. Bart van Oort