"endless energy, mesmerising talent and unswerving commitment" Julian Bigg, Conductor
Eleanor Turner is a harpist and composer who creates unique shows for herself and her ensemble to perform worldwide. She is a member of contemporary folk band Ranagri, a leading expert on contemporary harp music, a composer and producer.
Eleanor's news, online courses and live streams
Ruth Faber's Teenage Harp Course is in full swing with Keziah Thomas, Eleanor Turner and tutor and course leader Ruth Faber. Book early for next year - live in person at Sherbourne School in Dorset - as it sells out very quickly. Keep an eye on harpcourses.co.uk Eleanor is also looking forward to being the musical director and tutor for the Glasbury Arts Harp Summer School 2021, which is in the Brecon Beacons.
NEW COURSE online NOW for Advanced Harpists! Elizabeth Bass, major international competition winner, chamber musician, orchestral harpist, tutor (and so much more) has created an online course specifically for Eleanor Turner's Teachable platform. The course is just £40 or £70 including a one on one lesson over Zoom with Elizabeth (at your mutual convenience). It's called The Imagination Feeds The Technique. If you support Eleanor on Patreon you have access to a big discount, too.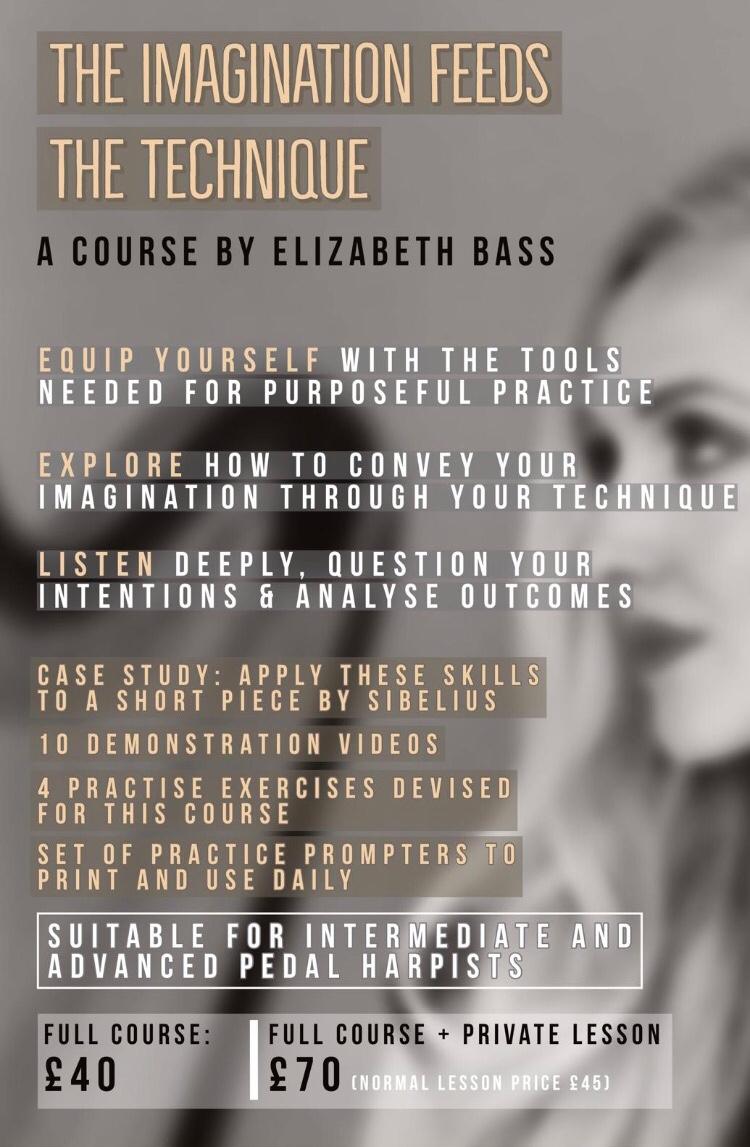 RANAGRI have a new video out on YouTube: Courting Is A Pleasure, filmed in Northeim in Germany before lockdown, by Emre Meydan. This track is a Bandcamp exclusive:
Eleanor's live gig from Tuesday 30th June, in support of the Glasbury Arts Harps In Schools project, with guest artist performance from Tasha Burns, is available to watch (two separate vidoes)on her facebook page Facebook.com/eleanorstrings
Her encore of Deborah Henson-Conant's Baroque Flamenco from Eleanor's Metro Harp gig can be viewed here: https://www.facebook.com/metroharp/videos/581997556056277/
Other videos from Ellie are on her YouTube account YouTube.com/SassyHarp so please do take a visit and please Subscribe while you're there. Follow Eleanor @eleanorstrings on Facebook, Instagram, Twitter and Soundcloud for news, uploads, videos and creative vibrations! Wishing love and safety to you all, around the World, during the current pandemic.
Book Ellie for a remote recording session, via the website SoundBetter.com. Here's a link to her profile: https://soundbetter.com/profiles/232852-eleanor-turner
Eleanor is loving a variety of online work: Recording, recording, recording, streaming concerts, creating tuition courses (more of those coming really soon), giving one to one lessons via Zoom (a wonderful platform for sharing not just the live stream lesson or class, but also teaching materials and videos) and creating exclusive content through PATREON where you can sign up for as little as £1 per month to show support to Eleanor in her creative work. Sign up for rewards, videos, sheet music where useful, first-to-know info and discounts. Link to Eleanor's Patreon: https://www.patreon.com/EleanorStrings and feel free to request an online lesson with Eleanor. info@eleanorturner.com
THE THREE WAVES Eleanor's NEW COURSE is now online at eleanorturner.teachable.com. It is a co-production between her and Mendi Singh in which you learn the basics of Indian classical music: Ragas, Rhythm and Rhetoric. We touch on Charukeshi and Asavari raags, Taal - the system of beat cycles in Indian classical music, and the kind of shapes and gestures used in improvisations. It's suitable for lever and pedal harpists of all levels and is currently being enjoyed by other instrumentalists, too! Try this taster page now: https://eleanorturner.teachable.com/courses/the-three-waves-harp-and-tabla-experience-by-tala-tarang/lectures/17552861
The course was made with support from the UKHA (United Kingdom Harp Association) and can be accessed for FREE if you are a member of the UKHA, via a coupon code that you can get from Friday via the Members Only section of their new website, www.ukharp.net.
If you're not a UKHA member, and you don't even need to be a harp player to take the course, you can access the course for $50 or for just £10 if you support Eleanor via Patreon.
Link to Eleanor's new course: The Three Waves by Tala Tarang - you can read about the course right now, there are videos and information to help you to decide whether it's for you or not! It's a course that would initially take around 2 hours to read and watch the whole thing: there are three 'waves' which all include 2 PDFs, a 20 minute video in which Eleanor and Mendi verbally teach (so this course is for you if you do - or don't - read western notation sheet music) and a fun quiz! There are a couple of extra exercises and suggested listening. If you enjoy the lessons, you can keep going over the videos to play along with Mendi on the tabla. It is for harpists (pedal, lever or Paraguayan) primarily, but other instrumentalists will benefit from it too, as well as music appreciators in general!