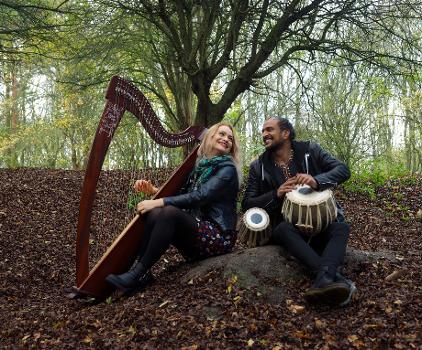 Eleanor is a member of 4 Girls 4 Harps, a harp quartet who have celebrated their 15 year anniversary by founding the British Harp Chamber Music Competition and commissioning a superb new work by four outstanding women composers: Nicola LeFanu, Savourna Stevenson, Alissa Firsova and Ayanna Witter-Johnson.
Four of Eleanor's tried and tested arrangements, for 4 harp ensemble, are available to purchase and download at Harp Column Music. Click here.
Welcome! Eleanor's next performances
See Concerts page for details of all of Eleanor's upcoming performances!
3 December 2017 Eleanor and her students of the Royal Birmingham Conservatoire perform at The Spotted Dog, Digbeth, Birmingham, from 6pm. https://www.facebook.com/TheSpottedDogSundayClassics/
10 December 2017 Harvey Brough's 'The Bells of Paradise' sung by Vox Holloway, Eleanor on harp. Sold Out.
15 December 2017 Ellie and the rest of Ranagri perform at The New Inn, Witney, Oxfordshire, starts about 8pm.
20 December 2017 Dave Le Page Ensemble with Eleanor in Southwell Library, NG25 0EH. 'Midwinter' starts at 7.30pm. http://www.davidlepage.co.uk/le-page-ensemble-concerts-in-southwell.html
21 December 2017 Harborough Collective Christmas concert 'Midwinter' at 7.30pm at The Congregational Church, Market Harborough.
For current information and news, please sign up to Eleanor's newsletter: Click here to sign up now via Eleanor's facebook page (you don't need to sign up to Facebook to do this)
Intensive Study: Eleanor invites students from around the world to join her at her home in Stamford for 1-3 days.
€Eleanor Turner is a very personal artist; she captures the warmness of the South American rhythm and timbres. She is a professional and intelligent performer as well as a mature artist. Bart van Oort