"endless energy, mesmerising talent and unswerving commitment" Julian Bigg, Conductor
Eleanor Turner is a harpist and composer who creates unique shows for herself and her ensemble to perform worldwide. She is a member of contemporary folk band Ranagri and Head of Harp at the Royal Birmingham Conservatoire. Follow Eleanor on twitter, instagram and facebook for news, pictures and videos.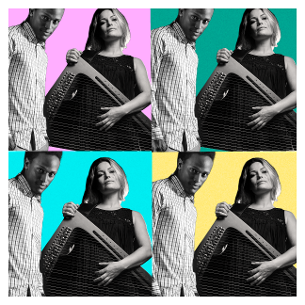 Upcoming concerts: Eleanor is on tour with Omowale Music and Ranagri and has classical concerts in East Devon with 4 Girls 4 Harps (16 June), Lamport Hall, Northamptonshire with flautist Lisa Nelsen (27 July) and a solo recital in Street, near Glastonbury (10 August)
Picture on the left is Omowale Music Feat. Ellie Turner: 14 June London E3 5SX on The Village Butty Boat, moored on Regent's Canal at Victoria Park.
Also playing on 17 June at Mama Liz's in Stamford 4-6pm for Sunday Sessions, at the 4th Birthday Bash of Stamford's amazing Soft Play centre and cafe, 'The Yard, on Friday 22nd June 2pm onwards for kids and families and finally on Saturday 23rd June at The Spotted Dog pub in Digbeth, Birmingham, in the gorgeous sunny garden from 5.30pm. More details on Concerts page.