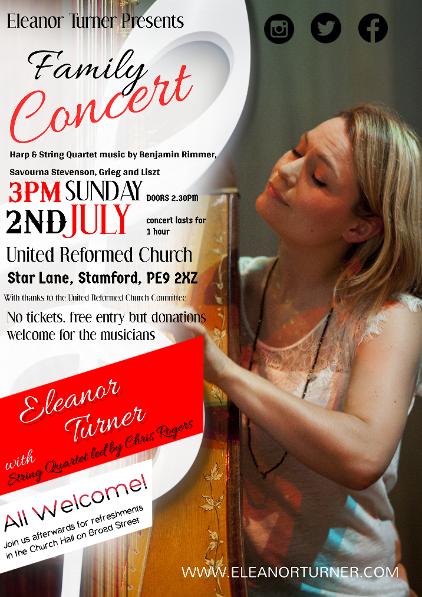 Photo: Carla Rees
Social media and news: Eleanor is on Soundcloud as Eleanor Turner 3. If you like pictures, follow 'eleanorharpist' on Instagram! Eleanor also has a page on Facebook and you can follow her on Twitter as she harps around the World!
Eleanor is a member of 4 Girls 4 Harps, a harp quartet who have celebrated their 15 year anniversary by founding the British Harp Chamber Music Competition and commissioning a superb new work by four outstanding women composers: Nicola LeFanu, Savourna Stevenson, Alissa Firsova and Ayanna Witter-Johnson.
Four of Eleanor's tried and tested arrangements, for 4 harp ensemble, are available to purchase and download at Harp Column Music. Click here.
Welcome to eleanorturner.com
Eleanor's next performances
2 July 3pm Harp and String Quartet (led by Chris Rogers) concert at the United Reformed Church, Star Lane, PE9 1PH in Stamford. One hour of sumptious harp and string quartet music by Stamford's own Benjamin Rimmer and Scotland's Savourna Stevenson, plus solo harp works. A Family Friendly performance light in mood and perfect for a Sunday Summer afternoon! Free but donations are most welcome, in support of Eleanor's upcoming appearance representing the UK at the World Harp Congress in Hong Kong. Eleanor is very grateful to the support of her church and local friend and violinist Chris Rogers.

...LATER THAT DAY....


2 July 2nd concert at 6.30pm (ish) at The Spotted Dog pub, Digbeth, Birmingham, 104 Warwick Street, B12 0NH. As above.

4 July Eleanor Turner 1pm solo concert at Lincoln Drill Hall £7 in advance or £8 on the door https://www.lincolndrillhall.com/events/licmf-lunchtime-concert-eleanor-turner-harp

See Concerts page for details of all of Eleanor's upcoming performances!
For current information and news, please sign up to Eleanor's newsletter: Click here to sign up now via Eleanor's facebook page (you don't need to sign up to Facebook to do this)
Intensive Study: Eleanor invites students from around the world to join her at her home in Stamford for 1-3 days.
€œEleanor Turner is a very personal artist; she captures the warmness of the South American rhythm and timbres. She is a professional and intelligent performer as well as a mature artist. Bart van Oort